Curtis Leifso - Founder and President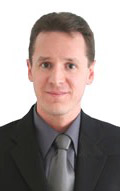 Dr. Leifso received his Ph.D. from the University of Calgary, Canada in 2000. His academic research focused on all facets of front to back RF and analog IC design, implementation and testing for wireless applications.
In 2000, Curtis joined Research in Motion in Ottawa as a principle designer in the development of a low power GSM radio for the Blackberry handheld. This work encompassed the entire receive chain including the design of all blocks from IF to baseband. Included in this, were the design of a novel frequency divider, high linearity IF AGC, and numerous other designs, two of which became the subject of patent grants.
Following RIM, Curtis joined Icefyre Semiconductor as a senior designer for a CMOS 802.11a RF receiver. In 2003, Curtis joined Engim Inc as a lead designer in the development of an RF front end for a multi-channel wireless LAN access point. Curtis was the sole designer of the complete transmit chain from DAC reconstruction filters to antenna out, a novel 6 GHz frequency doubler and a variety of other designs, inductor modeling and extensive lab work.
Curtis's design methodology was shaped from working exclusively in demanding startup environments where it is important to recognize that unconventional designs are often required yet robust designs suitable for volume production, timely delivery and risk mitigation measures cannot be neglected. In every project, Curtis has been at the forefront of each step from conceptual design to gds delivery followed by taking point in the lab. Curtis has authored numerous journal, conference publications and holds several US and Canadian patents.